Shrove Tuesday is fast approaching, and there is no way we're missing out on the fun. There are so many delicious gluten free pancake recipes out there, from crepes to Dutch babies (bear with us if you've never heard of these!), and we've scoured the internet to find the best of the best. We've also included recipes free from eggs, dairy, and gums, so there really is something in here for everyone. Keep reading to discover our favourite recipes and the final, ultimate answer to that age-old question: which pancake topping reigns supreme?
Top 5 Gluten Free Pancake Recipes
We can guarantee you won't miss the gluten in this classic crepe recipe from Gluten Free on a Shoestring. It's also free from gums of any sort – and we love Nicole's serving suggestions of roasted chicken and vegetables!
These protein-packed pancakes made with homemade oat flour are flippin' delicious. Want to take them to the next level? Lauren's peanut butter and white choc sauce turns them into a proper treat. Delicious!
Our friend Glutarama is always wowing us with her imaginative ways of adapting 'normal' recipes to suit a large variety of allergies and conditions. With these classic and delicious pancakes, you're left with the perfect blank canvas to sprinkle, drizzle and crumble your favourite toppings over!
These recipes involve a fair few ingredients, but if you are the owner of a well-stocked kitchen, then these could be perfect for you! We love their sophisticated flavour combinations and fluffy texture.
Now for something a little bit special. Pour a thin, pancake-style batter into a very hot pan and allow it to puff up a little in the oven like a Yorkshire pudding, and voila! You are left with a Dutch baby! This gluten free recipe from Snixy Kitchen adds tartness with caramelised nectarines and a sprinkling of icing sugar to keep things sweet.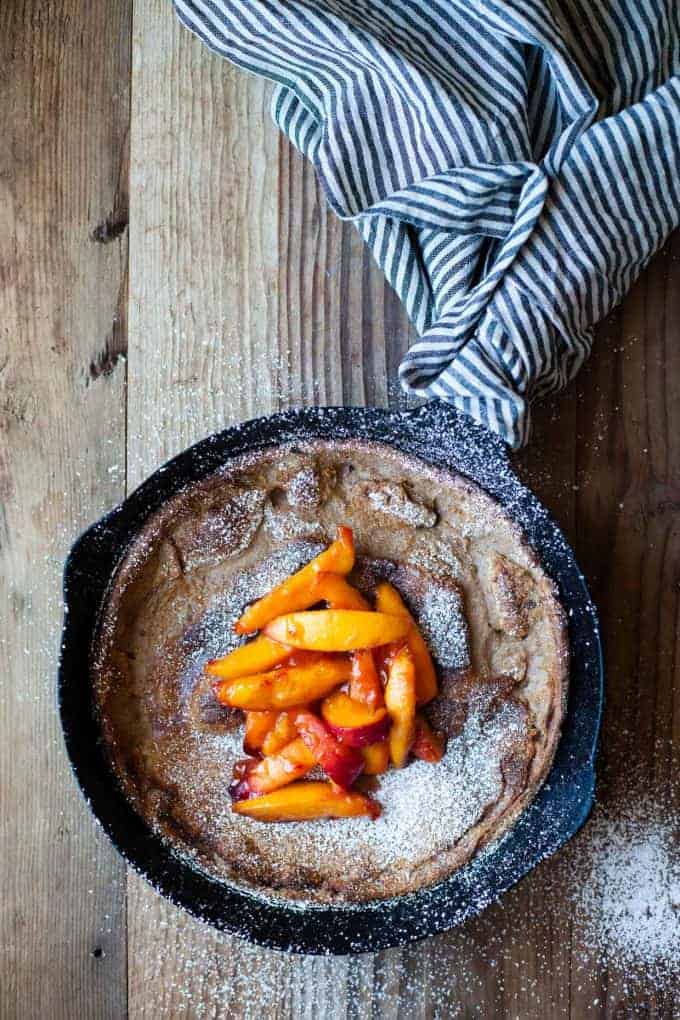 Top this!
We did a sweep of the Delicious Alchemy office and factory to discover once and for all, the ultimate pancake topping. The results are in…
With a whopping 3 votes from Katie, Charlie and Liz, the winner was clear. The ultimate pancake topping is the classic Lemon & Sugar!
As a bonus, we can also give you the weirdest pancake topping ever. Joe's gravy & ketchup combo was met with a (shall we say) mixed reaction in DA HQ. Genius or totally gross – we'd love to hear what you think! Tweet us your thoughts.